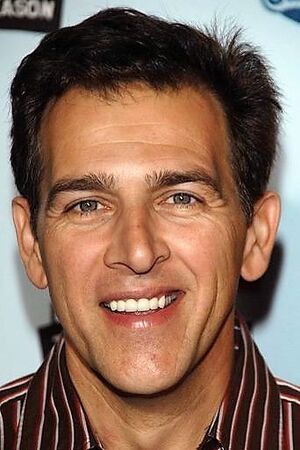 John D'Aquino (born 14 April 1958) is an American actor, writer, director, and producer.
He played Ed Hamilton, a wealthy unfaithful husband, on Showtime's series DEXTER.
Appearances
Career
Films
His movie credits include roles in No Way Out (1987); Pumpkinhead (1988); Slipping Into Darkness (1988); Cowboys and Angel (1999 Short); Trinity (2005 Short); It's All About You (2002); Final Approach (1995); The Telling (2009); The Job (2009 Short); Wiz's World (2011); Last Day of School (2011 Short); What I Did Last Summer (2012 Short); Wordplay (2012 Short); Another Assembly (2014); The 60 Yard Line (2017); ApocaFISH (2018 Short); and Dark Chasm (2018 Short).
TV Movies
His credits for TV movies include Stompin' at the Savoy (1992); The Babysitter's Seduction (1995); Hard Time (1998); Police Story: The Watch Commander (1988); and Second Chances (2013).
Television
His TV credits include appearances on Cory in the House; That's My Bush!; SeaQuest 2030; P.S.I. Luv U; Shades of L.A.; The Dirty Dozen; Wildside; JAG; 3rd Rock from the Sun; The Mentalist; Major Crimes; Heart of the City; Cold Case; CSI: Crime Scene Investigation; Monk; Shark; Weeds; Crossing Jordan; The Division; Oliver Beene; V.I.P.; Melrose Place; Martial Law; Hannah Montana; Sliders; Silk Stalkings; Inconceivable; Alright Already; Pensacola: Wings of Gold; Xena: Warrior Princess; Lois & Clark: The New Adventures of Superman; K.C. Undercover; Here and Now; Seinfeld; NCIS; Murder, She Wrote; Renegade; Baywatch; M.A.N.T.I.S.; Quantum Leap; Dark Justice; Reasonable Doubts; Matlock;Tequila and Bonetti; Nightmare Cafe; Christine Cromwell; Magnum, P.I.; 21 Jump Street; Crisis Center; Head of the Class; Amazing Stories; Hart to Hart; Serving Time; In Sanity, Florida; Ohara; The 60 Yard Line; Disjointed; Shake It Up; and Eyes.
Theatre
Over the River and through the Woods, Caldwell Theatre Company, Blowing Rock Stage Company Professional Theatre, Blowing Rock, NC (2004)
Italian 101 (solo show), Blowing Rock Stage Company Professional Theatre (2004)
Personal Life
He was born in Brooklyn, New York, and has two brothers and one sister.
Trivia
His is known by Jonathan Aquino, John DiAquino, John Di Aquino, John Aquino, and Jonathan D'Aquino.
He was formerly a "Big Brother" in Los Angeles.
He played a Hispanic president on Cory in the House, but he is of Italian descent in real life.
Gallery
Community content is available under
CC-BY-SA
unless otherwise noted.