Joe Jensen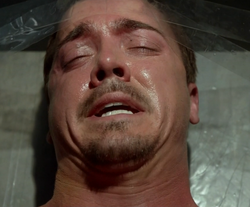 Character Profile
Portrayed By
Mike Foy
Season(s)
Season Seven
First Appearance
The Dark... Whatever
Last Appearance
The Dark... Whatever
Appears in
One Episode
Character
Full Name
Joseph Jensen
Nicknames
Phantom Arsonist
Status
Incarcerated
Characteristics
Age
26
Birthday
19 July 1986
Gender
Male
Eyes
Green
Hair
Brown
Personal Status
Marital Status
Single
Immediate Relatives
Unknown
Professional Status
Profession
Janitor
Killer Profile
"Phantom Arsonist"
Inactive
Number of Victims
Ten
Modus Operandi
Tools/Weapons
Flamethrower
Killing Method
Burning alive
Method of Disposal
None
Cause
At age twelve, Joe helped his friend, Bobby, set a fire in their school's gym, in which Bobby died. Joe was sent to juvenile detention for six years. While there, he burned up his roommate's bunk bed, In 2006, he was sent to a psychiatric facility until 2012. Through the years, Joe blamed Bobby for being locked up since the fire had been his idea. When Joe was released, he began to burn people alive, and leave behind a message: Bobby.
Joe Jensen is a character on Showtime's series DEXTER.
He was dubbed The Phantom Arsonist after Dexter Morgan noticed a void in the scorched area surrounding the first two victims, with the name "Bobby" mysteriously written at crime scenes.
Early life
1998
When he was twelve, Joe helped his best friend, Bobby Hamilton, set their school's gym on fire, in which Bobby was inadvertently killed. When the fire was over, Joe was caught by the police and sent to a juvenile facility for six years, while blaming Bobby for it. During his time at juvie, he would often fight with the other children.
2000
Two years after his imprisonment, Joe set his roommate's bunk on fire. His privileges were suspended for two months and he was forced to live in an individual room with higher supervision.
2006
Joe was sent to a psychiatric facility for six years.
2012
He was released, a month before the fires started.
Summary
The first arson victim was thought to have died by self-incineration (a form of suicide). At the next crime scene, Dexter Morgan noticed that a void was present in the soot and believed that someone was responsible for the death.
Initially, Dexter suspected Investigator Phil Bosso to be the killer, but cleared him. He then tracked down Joe Jensen in a juvenile database, by using his fingerprint.
Dexter set up a kill room in Jensen's house and almost killed him, until he realized that both Joe and himself blamed their killing on a childhood trauma. He then cut Joe loose, knocked him out, and called the police. When Debra arrived at the scene, she realized that Dexter had left Joe to be arrested.
Victims
George Lee
Chris Thomas
Rhodes Mason
C. Patterson
I. Patterson
Three unnamed bus victims
Appearances
Related Page
Trivia
Dexter appears to have set up his kill room in Joe's basement. However, most houses in Florida do not have basements. This is because the water table is so high.
Gallery
Community content is available under
CC-BY-SA
unless otherwise noted.