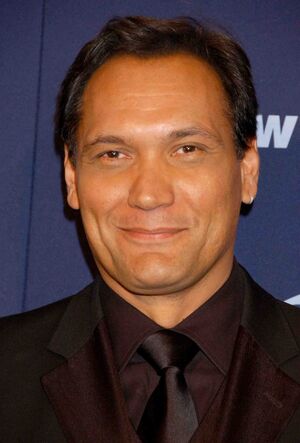 Jimmy Smits (born 9 July 1955) is an American actor.
He played ADA Miguel Prado on Showtime's DEXTER.
Appearances
Career
An early role played by Smits was that of Eddie Rivera in the two-hour series premiere of Miami Vice in 1984. In the episode, he portrayed Sonny Crockett's original partner, who was killed in a sting gone wrong. He also played attorney Victor Sifuentes on the 1980s legal drama L.A. Law, NYPD Detective Bobby Simone on the 1990s police drama NYPD Blue, and Matt Santos on the 1999-2006 serial political drama The West Wing. In 1999, Smits received the HOLA Award for Excellence from the Hispanic Organization of Latin Actors (HOLA). In 2007, Smits portrayed the character Alex Vega in the CBS TV series Cane. Additionally, he had a role as Bail Organa in the Star Wars prequel trilogy and in Rogue One (2016). From 2012 to 2014, he joined the main cast of Sons of Anarchy as Nero Padilla. In 2016, Smits starred in The Get Down, a musical drama television series which debuted on Netflix.
Personal Life
Smits was born in Brooklyn, New York. He was a talented actor and athlete in high school and, after graduating, he earned a degree from Brooklyn College before getting his MFA in theater from Cornell University and beginning his acting career in off-Broadway plays. "Jimmy" is the name which appears on his birth certificate. It is not a stage name or derived from "James".
Gallery
Community content is available under
CC-BY-SA
unless otherwise noted.