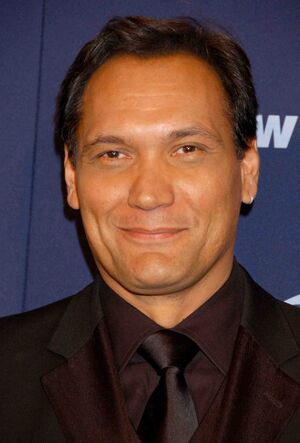 Jimmy Smits (born 9 July 1955) is an American actor.
In 2008, he played ADA Miguel Prado in the Showtime series DEXTER.
Appearances
Career
Films
His film credits include roles in In the Heights (2021); Who We Are Now (2017); Rogue One: A Star Wars Story (2016); Mother and Child (2009); Backyard (2009); The Jane Austen Book Club (2007); Star Wars: Episode III - Revenge of the Sith (2005); Star Wars: Episode II - Attack of the Clones (2002); Bless the Child (2000); Price of Glory (2000); The Million Dollar Hotel (2000); Lesser Prophets (1997); Murder in Mind (1997); The Last Word (1995); My Family (1995); Gross Misconduct (1993); Fires Within (1991); Switch (1991); Vital Signs (1990); Old Gringo (1989); The Believers (1987); Hotshot (1986); and Running Scared (1986).
TV Movies
His TV movies include Lackawanna Blues (2005); Mother Goose: A Rappin' and Rhymin' Special (1997, voice); Marshal Law (1996); Solomon & Sheba (1995); The Cisco Kid (1994); The Broken Cord (1992); Glitz (1988); Mickey's 60th Birthday (1988); Stamp of a Killer (1987); and Rockabye (1986).
Television
His TV credits include roles on Bluff City Law; How to Get Away with Murder; Brooklyn Nine-Nine; 24: Legacy; The Get Down; Sons of Anarchy; Outlaw; American Experience (documentary); Cane; The West Wing; NYPD Blue; Happily Ever After: Fairy Tales for Every Child (voices); The Tommyknockers (Mini-Series); L.A. Law; Cop Rock (uncredited); Pee-wee's Playhouse; The Highwayman; Spenser: For Hire; All My Children; and Miami Vice.
Video Games (voice)
2016: Gears of War 4
2009: Star Wars: The Force Unleashed - Ultimate Sith Edition
2008: Star Wars: The Force Unleashed
Awards
2009 - Saturn Award / Best Guest Starring Role on Television / Dexter
2006 - ALMA Awards / Outstanding Actor in a Drama Series / The West Wing
1998 - Satellite Awards / Best Actor – Television Series Drama / NYPD Blue
1996 - Golden Globe Awards / Best Actor – Television Series Drama / NYPD Blue
1995 - Screen Actors Guild Awards / Outstanding Performance by an Ensemble in a Drama Series / NYPD Blue
1990 - Primetime Emmy Awards / Outstanding Supporting Actor in a Drama Series / L.A. Law
Personal Life
Smits was born in Brooklyn, New York and raised in a strict, devout Roman Catholic family. "Jimmy" is the name which appears on his birth certificate. It is not a stage name or derived from "James." He spent time in Puerto Rico during his childhood.
After graduating from Thomas Jefferson High School where he was an athlete and actor, Smits earned a Bachelor's degree from Brooklyn College and a MFA in theater from Cornell University. He began his acting career in off-Broadway plays.
He was married to high school sweetheart, Barbara Smits, from 1981 until 1987. They have two children, Taina and Joaquin. Since 1986, Smits has been in a relationship with actress Wanda De Jesus, and they live together in Los Angeles.
Gallery