Jimmy Sensio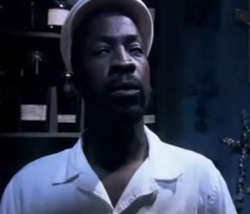 Character Profile
Portrayed By
Glenn Plummer
Season(s)
Season Two
First Appearance
It's Alive!
Last Appearance
It's Alive!
Character
Full Name
Jimmy Sensio
Aliases
The Man With God in His Mouth
Status
Alive



Characteristics
Age
40s
Gender
Male
Eyes
Gray
Hair
Black
Personal Status
Marital Status
Single



Professional Status
Profession
Voodoo Store Owner
Killer Profile
"No Known Alias"
Inactive
Number of Victims
3
Modus Operandi
Tools/Weapons
Rican
Killing Method
He is paid to cast death curses on people and then poisons his victims with rican in the water bottles that his victims buy from him
Method of Disposal
None
Cause
Unknown, though he said that his god told him to commit the murders
Jimmy Sensio is a blind Voodoo "high priest" nicknamed "the man with God in his mouth." Jimmy appears in the 1st episode of the 2nd season. He is hired to perform "death curses" on people but really kills them by selling them drinks poisoned with ricin.
At first, even after being kidnapped by Dexter, he continues his theatrics, changing his voice and claiming to be possessed by a vodoun spirit while cursing Dexter, who is unphased and simply smacks him and tells him to knock it off. After weeks of being stalked by Doakes, Dexter's murderous urges have become unbearable. However, Dexter suffers from a form of "performance anxiety" as a result of killing his own brother and is unable to kill Sensio. Since Sensio is blind and doesn't know Dexter's face or name, he lets him go, telling him the experience was a warning.
He only appears in It's Alive! but it is later mentioned he fled town after Dexter released him. It is unknown if justice ever caught up with him in the end, but if he ever was arrested for his murders, he may have told the police about his ordeal at Dexter's hands...in which case, they have presumably assumed that James Doakes, who was framed for the vigilante crimes of the Bay Harbour Butcher by the Butcher aka Dexter himself, was Sensio's kidnapper.
Victims