Jess Doakes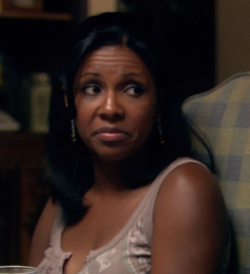 Jess Doakes is a character in Showtime's series DEXTER.
She is the older sister of James Doakes, the other sibling being Roni Doakes.
Summary
James keeps receiving pages from his Mom wanting him to come over and eat dinner with her. Both Jess and Roni are already at the house when he arrives with Debra Morgan. At the dinner table Debra proceeds to tell a story about a bust she had and uses her usual foul language with James briefly scolding her on it. Their mother Mrs. Doakes doesn't have a problem with it, and Roni makes a note that James doesn't come to spend enough time with his family. Jess follows up in regards to his language as she quips that the first words out of her baby brother's mouth were, "Got Milk, motherfucker?"
Roni inquires about the security guard (Tony Tucci) that she heard about on the news, with Jess saying with the severity of his wounds she'd cash in on all of it. Debra confirms that he's alright and goes on to talk about his charisma despite his run-in with The Ice Truck Killer.
She is seen grieving along with her mother and sister that are present at James' funeral following his death.
Related Pages
Community content is available under
CC-BY-SA
unless otherwise noted.