Jason Riech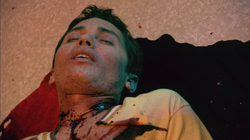 Character Profile
Portrayed By
Eric Banzon
Season(s)
Season One
First Appearance
Circle of Friends
Last Appearance
Circle of Friends
Appears in
One Episode
Character
Full Name
Jason Riech
Status
Deceased
Characteristics
Age
Teens
Gender
Male
Eyes
Brown
Hair
Black
Personal Status
Marital Status
Single
Immediate Relatives
Unknown
Professional Status
Profession
Yearbook Editor
Jason Riech is a character in Season One of the Showtime series DEXTER.
He was a teenager that fell victim to Jeremy Downs.
History
Dexter spares a young murderer named Jeremy Downs, believing it unlikely that he will kill again.
Summary
The body of a young man is found in a public place. As Dexter is demonstrating castoff blood patterns, Sergeant James Doakes and Detective Pullman arrive at the scene. Doakes threatens to submit Dexter for psychiatric evaluation. Dexter explains what he's doing and describes the murder as an execution. Doakes is skeptical because the kid was an honor roll student and editor of his high school yearbook.
As Dexter stares at the body, he realizes that he's seen the same type of wounds before...on Jeremy Downs' victim.. Doakes asks Dexter if he's getting a goddamn hard-on. Dexter simply chuckles.
Lieutenant Maria LaGuerta later confirms that Jason's parents are high profile.
To rectify his mistake of sparing Jason, Dexter decides to kill him. As he's stalking Jeremy in a park, Doakes and other officers rush past him and arrest Jeremy.
While Jeremy is in jail, Dexter questions him on why he killed Jason. He says that he wanted to feel something, as he normally feels nothing. Soon after, Jeremy takes his own life by cutting an artery.
Quotes
"The FBI estimates that there are less than 50 serial killers active in the United States today. We don't get together at conventions, share trade secrets, or exchange Christmas cards... but sometimes I wonder what it's like for the others. The only sound I hear... the only sound in the entire world...is my heart beating." ~Dexter at Jason's crime scene
Related Pages
Trivia
The character is only credited as "Yearbook Editor," however a name is provided on the print-out Dexter uses to compare to Jeremy's previous victim.
When Debra Morgan and Angel Batista look up moving violations near crime scenes, Jason Riech is listed under Neil Perry's name.
Gallery
Community content is available under
CC-BY-SA
unless otherwise noted.