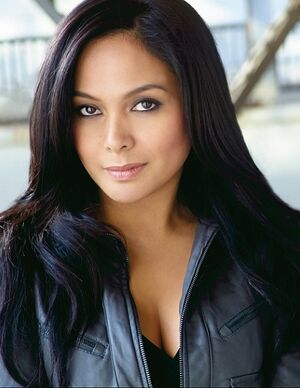 Jane McLean (born 10 September 1982) is an actress, producer, and screenwriter.
In 2008, she played Tammy Okama, a wedding planner, on Showtime's series DEXTER.
Appearances
Career
Films
Her movie credits include roles in Shoot 'Em Up (2007); Good Girls Don't (2017 short); Whitecoats (2004); Living Donor (2012 short); Smokeless (2012 short); Running Mates (2011); The Time Traveler's Wife (2009); Of Murder and Memory (2008 TV Movie); Hank and Mike (2008); Her Sister's Keeper (2006 TV Movie); Supervolcano (2005 TV Movie); Pact with the Devil (2004); Levity (2003); Guilt by Association (2002 TV Movie); and Largo Winch: The Heir (2001 TV Movie, uncredited).
Television
Her TV credits includes appearances on Workin' Moms; Supernatural; Defiance; Odyssey 5; 1-800-Missing; Veritas: The Quest; Kevin Hill; ReGenesis; Terminal City; CSI: NY; 24; Wild Card; Transporter; The Dresden Files; and Flashpoint.
Personal Life
Born in the Philippines and raised in Toronto, she is the youngest of five children. She began her career in film and television after studying at the American Academy of Dramatic Arts. She divides her time between Los Angeles, Vancouver, and Toronto.[1]
Trivia
In 2016, she expanded her career to include screenwriting.
She has lived and studied in Europe and can speak three languages: Tagalog, Italian, and English.[2]
She is a voracious reader and paints in her spare time.[3]
Incorrect data across internet states Jane McLean was born in Canada.
Gallery
References