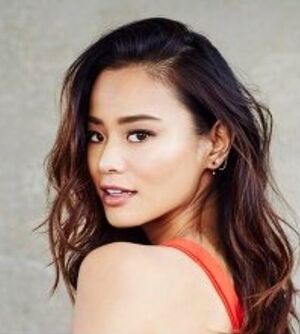 Jamie Chung (born 10 April 1983) is an American actor and producer.
She plays Molly Park, a true-crime podcaster, in the Showtime special event series Dexter: New Blood.
Appearances
Career
Films
Her film credits include roles in Batman: Soul of the Dragon (2021, voice); Dangerous Lies (2020);1985 (2018): Band Aid (2017); Office Christmas Party (2016); Flock of Dudes (2016); Already Tomorrow in Hong Kong (2015); A Year and Change (2015); Big Hero 6 (2014, voice); Frank Miller's Sin City: A Dame to Kill For (2014); Flight 7500 (2014); Bad Johnson (2014); Rudderless (2014); Hangover Part III (2013);The Man with the Iron Fists (2012); Premium Rush (2012); Knife Fight (2012); Eden (2012); The Hangover Part II (2011); Sucker Punch (2011); Grown Ups (2010); Burning Palms (2010); Sorority Row (2009); Dragonball Evolution (2009); and I Now Pronounce You Chuck & Larry (2007);
TV Movies
Her TV movies include The Asset (2012); Princess Protection Program (2009); and Katrina (2007).
Shorts
Her shorts include Death (2019, voice); Big Chibi 6: The Shorts (2018, voice); Steve Aoki Feat. BTS: Waste It on Me (2018); Ctrl (2018); Visa Vows: The Wedding Expenses Credit Card (2017); SAF Seeking... The Morning Afterglow (2012); and It Has Begun: Bananapocalypse (2012).
Television
Her TV credits include roles on Big Hero 6: The Series; This Is Us; Lovecraft Country; Awkwafina Is Nora from Queens; Sherwood; The Gifted; Casual; Gotham; Once Upon a Time; Resident Advisors (mini-series); Believe; Grey's Anatomy; Castle; Samurai Girl; Greek; CSI: NY; Days of Our Lives; ER; and Veronica Mars.
Video Games
2019: Kingdom Hearts III
2017: Destiny 2
2011: X-Men: Destiny
2009: Command & Conquer: Red Alert 3 - Uprising
2008: Command & Conquer: Red Alert 3
Personal Life
Jamie was born in San Francisco, California, the daughter of Korean parents. She graduated from Lowell High School in San Francisco, California, in 2001 and from the University of California at Riverside in 2005 where she earned her Bachelor's Degree in economics. She is married to actor Bryan Greenberg. [1]
References