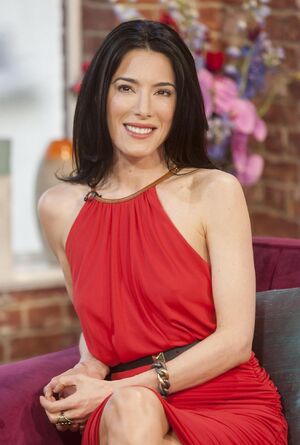 Jaime Murray (born 21 July 1976) is an English actress.
In 2007, she played Lila West, a sculptor and arsonist, in the Showtime series DEXTER.
Appearances
Career
Film
Her film credits include roles in Possessions (2020); The Nanny (2018); Fright Night 2 (2013 Video); Samuel Bleak (2013); Devil's Playground (2010); Botched (2007); The Deaths of Ian Stone (2007); and Animal (2005).
TV Movies
Her TV movies include Demons (2007).
Shorts
Her shorts include Zac Brown Band: Goodbye in Her Eyes (2014); Hustle Season 3: It's Just Like Playing (2007); and Hustle Season 2: The Big Finish (2005).
Television
Her TV credits include roles in Castlevania; Gotham; Midnight, Texas; The Originals; Once Upon a Time; Defiance; Sleepy Hollow; Warehouse 13; Childrens Hospital; Jan; Ringer; Hustle; The Finder; Spartacus: Gods of the Arena (Mini-Series); Suite 7; The Beautiful Life: TBL; Valentine; NCIS; Eli Stone; The Mentalist; Poirot; ShakespeaRe-Told (Mini-Series); Love Soup; Doctors and Nurses; Keen Eddie; The Bill; and Casualty.
Video Games
2014: Lichdom: Battlemage (voice)
Modeling
Murray modeled clothing in television advertisements for Debenhams department store. She is signed to Models 1 in London and has appeared in men's magazines such as GQ, Mayfair, and FHM, as well as women's magazines such as Hello!, Cosmopolitan, and OK!.
Personal Life
Murray was born in London, England, to Elaine and English actor Billy Murray. She was named after Lindsay Wagner's character Jaime Sommers in the 1970s television series The Bionic Woman. Just before taking her A Levels, Murray was diagnosed with dyslexia. She briefly studied philosophy and psychology at the London School of Economics, but dropped out to train at the Drama Centre London, where she graduated in 2000. Murray married Bernie Cahill, a partner in an entertainment management company, in May 2014
Gallery