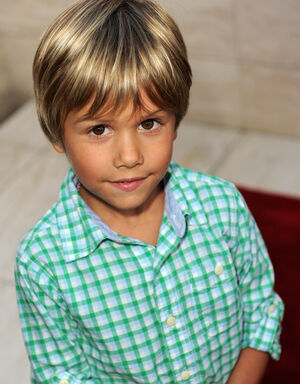 Jadon Wells (born 11 April 2006} is an American actor.
He played Harrison Morgan on Showtime's series DEXTER.
Appearances
Career
Films
His movie credits include roles in Married Not Dead (2009), The Assistants (2011), Divorce Invitation (2012), and Wedding Band (2012).
Television
His TV credits include roles on Days of Our Lives. Crime Scene Investigation, and Stalker.
Personal Life
Both of his parents, Daniel Wells and Rachelle Pettinato, are actors. He has two brothers, Troy and Emerson.[1]
Trivia
Jadon is deeply into CrossFit, which combines high-intensity interval training, Olympic weightlifting, plyometrics, powerlifting, gymnastics, girevoy sport, calisthenics, strongman, and other exercises.[2]
Gallery
References