Jacques Bayard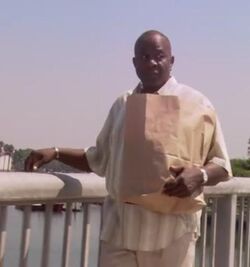 Character Profile
Portrayed By
Uncredited
Season(s)
Season One
First Appearance
Father Knows Best
Last Appearance
Father Knows Best
Appears in
One Episode
Character
Full Name
Rene Thibault
Aliases
Jacques Bayard
Status
Deceased
Manner of Death
Killed by James Doakes
Characteristics
Age
40s
Gender
Male
Eyes
Brown
Hair
Black (shaven)
Personal Status
Marital Status
Single
Professional Status
Profession
Formerly a death squad officer for the Haitian government
Killer Profile
"No Known Moniker"
Inactive
Number of Victims
At least one
Assumed to be responsible for many more
Modus Operandi
Tools/Weapons
Revolver
Killing Method
Various
Method of Disposal
Unknown
Cause
He was a member of Tonton Macoute, Haitian paramilitary group responsible for war crimes.
Jacques Bayard
, formerly known as
Rene Thibault
, is a character in
Showtime
's series
DEXTER
.
He was a war criminal killed by James Doakes.
History
Not much is known about Bayard, aside from his real name being Rene Thibault, and that he was an officer in the Haitian military. He and Doakes fought against each other during a top secret mission.
Summary
One day, while Bayard was walking down the street with groceries, he was spotted by Doakes who yelled at him. Bayard recognized him and began to run, with Doakes in pursuit and Angel following in the car. Angel heard gunshots and Jacques was found dead with Doakes claiming self-defense and saying that Bayard had fired the first shot.
Due to the fishy circumstances, Doakes was put under investigation. Lt. Maria LaGuerta asked Doakes about the shooting and he said that Bayard was a Haitian criminal, specifically a death squad officer.
Eventually, Internal Affairs dropped the case, after being called by an unknown agency in Washington. Apparently, the case had to do with "sensitive foreign relation issues." This astounded Angel Batista and he stated that they "disappeared" the case. Earlier in the episode, LaGuerta told Doakes the investigation would soon be over soon, and he responded with, "I know it will." This implied that he knew the government would protect him..
Related Pages
Community content is available under
CC-BY-SA
unless otherwise noted.