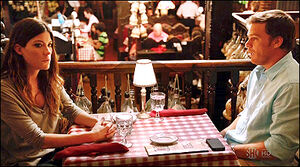 Italia is a location in Season Eight of the Showtime series DEXTER.
It's an Italian restaurant where Dexter Morgan takes Debra Morgan in an attempt to assuage her guilt over killing Maria LaGuerta.
Summary
Debra is in a downward spiral of drugs, guilt, and depression, ever since having shot LaGuerta. Dexter takes her to dinner at Italia, with her asking why they are in this "hell hole." Dexter points out a man and his family in the restaurant, and then shows Deb a video of when she acted heroically to stop a gunman. Dexter tells her that the family man is one of the people she saved that day, and that his children wouldn't have a father now if it wasn't for her. He tells her that she is a good person, and that she has brought a lot of good to the world. Deb listens to him, and then states that she is starving.
The dinner with Dexter, though, only furthers Deb's guilt. She soon appears at the police station, intoxicated, and confesses to an unconvinced Joey Quinn, that she murdered LaGuerta. Confused, Quinn calls Dexter, who arrives with Dr. Evelyn Vogel. Dexter secretly injects Deb with M99, telling Quinn she fainted. Dexter carries her out of the station, brings her home, handcuffs her to a sofa, and leaves her in the care of Vogel.
Related Pages
Trivia
The name of the restaurant, Italia, is seen on the waitress's apron.
Gallery