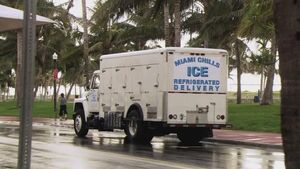 Ice Truck Killer Case is a police investigation in Season One of Showtime's series DEXTER.
It involves a series of killings of prostitutes who were drained of blood and dismembered.
The case in itself is the first major case in the series. The next major case after this is the Bay Harbor Butcher Case.
Suspects
History of Killer
Brian Moser was born to a single mother named Laura Moser and had a younger brother named Dexter Moser. When he was five he witnessed his mother chopped up into pieces which formed his urge to kill. He spent the next sixteen years in a mental hospital where his urge just grew stronger and stronger. When he got out he killed a man by the name of Rudy Cooper, stole his identity and spent the next few years learning about the human body. He began his killing spree of prostitutes in Miami hoping to draw the attention of his younger brother by draining the bodies of their blood and slicing them into pieces, displaying them for the whole world to see.
Detectives on Case
Other Involved Operatives:
Victims
Attempted Victims
Fallout from Case
After Maria LaGuerta falsely accused Tony Tucci of being the Ice Truck Killer as well as embarrassing Captain Thomas Matthews on local television, she was demoted to the rank of Detective. A replacement was soon brought by Matthews named Esmée Pascal. Even though Matthews tried to falsely convict Neil Perry for the Ice Truck Killings, he suffered almost no consequences. Debra Morgan was soon labeled the woman who slept with The Ice Truck Killer which continued to be a problem in her life, both professionally and personally.
Closure of Case
The case was officially closed when Rudy Cooper's true identity, Brian Moser was revealed and he was revealed to be the Ice Truck Killer.
Fate of Killer
Brian Moser supposedly committed suicide in the way he killed his victims. In reality, Dexter killed him to protect his sister, Debra.
Trivia
Crime Scenes
Related Pages
Gallery
Community content is available under
CC-BY-SA
unless otherwise noted.