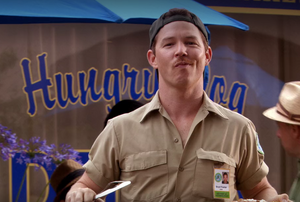 Hungry Dog Diner is a location in Season Five of Showtime's series DEXTER.
It is a restaurant with an outdoor seating area, and where Dexter Morgan stalked Boyd Fowler.
Summary
Dexter discovers that Boyd Fowler, who works in dead animal pickup, is a serial killer. He calls in a dead raccoon in order to meet him face-to-face. Soon after, as Boyd is eating lunch at the Hungry Dog Diner, Dexter fakes an accidental meeting with him. Boyd recognizes Dexter and they engage in friendly conversation, with Dexter telling him that he's unemployed and looking for work. Boyd suggests a job in his dead animal pickup division, and Dexter agrees to go with him on a trial run.
The next morning, Dexter waits for Boyd to pick him up outside the diner. Before Boyd arrives in his yellow truck, Dexter makes a call to report a dead alligator in order to lure Boyd out to the kill room he has prepared. However, Dexter's carefully laid plan goes astray.
Related Pages
Gallery
Community content is available under
CC-BY-SA
unless otherwise noted.