Henry Mitchell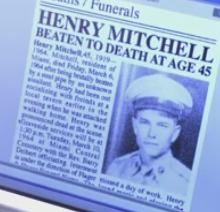 Henry Mitchell is a character in Season Four of Showtime's series DEXTER.
He was the father of serial killer Arthur Mitchell.
History
According to his obituary, Henry Mitchell was a WWII veteran born in 1919. In 1959, his daughter, Vera, died in her bathtub, partly because of his then 10-year old son, Arthur, who had startled her and caused her to slip. The following year, Henry's wife, Marsha, who had become severely depressed by her daughter's death, committed suicide by jumping off a bridge.
The two deaths drove Henry, who, according to Arthur, had always been something of a drinker, to drink even more and abuse Arthur, blaming him for the deaths. On the night of March 4, 1964, Henry was found in an alley, beaten to death with a hammer. Though no killer was ever caught, Dexter later theorized that Arthur, who would have been 13 or 14 at the time, was the killer.
When Arthur began his serial killing, the fourth victim of each cycle was a man in his 40s and parent of two who was bludgeoned to death with a hammer.
Related Pages
Community content is available under
CC-BY-SA
unless otherwise noted.