Harry's Father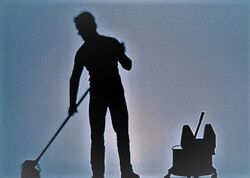 Mr. Morgan (possibly "Harrison") is a character in the Showtime series DEXTER.
He is Harry Morgan's father, and Debra Morgan's grandfather, as well as Dexter Morgan's (through adoption).
History
Mr. Morgan spent a 30-year career.at the Angel of Mercy Hospital in Miami, Florida. He started out as a janitor and worked his way up to Chief of Maintenance. Harry praised his father for his years of hard work at the hospital which put food on his family's table.
Summary
Near the end of his life, Harry takes Dexter to see the hospital and snap pictures of it, as it is destined to be shut down within two weeks. He tells his son about the history of his father (Dexter's grandfather) in regards to the hospital.
Harry notices a nearby woman and asks her to snap a picture of the two of them. At first, Dexter resists but then Harry hunches over, feeling an intense pain inside. Harry tries to cancel the photo, not feeling up to it anymore. However, Dexter insists that they take it because "being part of a family means smiling for family photos." (This photo is later used as a clue by The Ice Truck Killer.)
It's not known when Mr. Morgan passed, or if Dexter ever knew his grandfather.
Trivia
Interestingly, during a flashback, an elderly man (credited as "Grandfather") takes a picture of Harry, Dexter, and Debra during a hayride at McCaffrey Pumpkin Patch. It's not stated if he is Harry's father.
Related Page
Community content is available under
CC-BY-SA
unless otherwise noted.