Harrison's Surgeon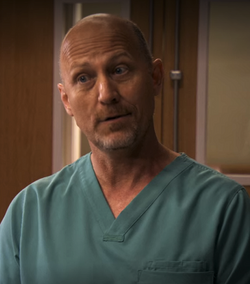 Harrison's Surgeon is a character in Season Six of the Showtime series DEXTER.
He operates on Harrison Morgan when his appendix ruptures.
Summary
Dexter Morgan receives a call while at work that his son, Harrison, has been taken to Saint Peter's Medical Center. When Dexter arrives at the hospital, the doctor informs him that Harrison's temperature is 104, his appendix has ruptured, and he needs immediate surgery. Dexter signs the parental consent form and Harrison is wheeled away to surgery.
While Dexter waits, Debra Morgan, Jamie Batista, and Brother Sam keep him company.
Later, the doctor tells Dexter that Harrison's surgery was successful, and Dexter enthusiastically thanks him.
Related Pages
Community content is available under
CC-BY-SA
unless otherwise noted.