Gate Attendant Casey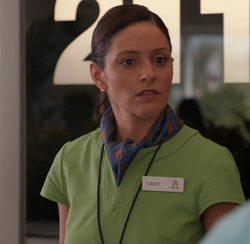 Casey is a character appearing in the Finale of the Showtime series DEXTER.
She is a gate attendant who works at airport terminal 211 (Aero Sudamerica) in Miami International Airport.
Summary
When Dexter Morgan attempts to leave Miami with his girlfriend, Hannah McKay, and son, Harrison, they are confronted with an issue. Private investigator Jacob Elway has pursued Hannah to the airport due to the hefty bounty on her head.
Realizing there's no other option, Dexter sets Elway up by buying various merchandise and placing it in a backpack, which he leaves underneath a chair in the lobby. He then approaches Casey, introducing himself as Miami Forensics, stating that he saw a man leave the a under a chair and walk away. He points over to Elway who is speaking on his phone. This causes Casey to suspect that Elway is either a terrorist or a criminal involved in a drop off. Casey calls airport security who hold Elway in custody for a short while.
Unfortunately, this also cancels Dexter and Hannah's flight due to the potential "threat" and no further flights are scheduled since Hurricane Laura is approaching Miami.
Related Pages
Gallery
Community content is available under
CC-BY-SA
unless otherwise noted.