Gabriel Bosque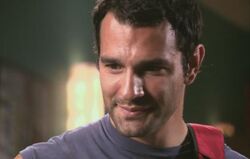 Character Profile
Portrayed By
Dave Baez
Season(s)
Season Two
First Appearance
Waiting to Exhale
Last Appearance
That Night, a Forest Grew
Character
Full Name
Gabriel Bosque



Status
Alive



Characteristics
Age
30s
Gender
Male
Eyes
Brown
Hair
Black
Personal Status
Marital Status
Single



Professional Status
Profession
Children's book author
Gabriel Bosque[1] is a Season Two addition to the Showtime series DEXTER. He first appeared in the second episode "Waiting to Exhale", where he met Debra Morgan at a workout gym. He is Debra's love interest in Season 2.
Plot
Noticing that Debra was having trouble with the punching bags, he offered to help her start training. This did not bode well; while offering to help her start, he told her she needed to tape her hands, while he was doing this Debra had a flashback to her abduction by her then fiance Rudy Cooper aka The Ice Truck Killer. She quickly ran from the scene with little explanation. She soon returns to the gym to find Gabriel and apologizes for her actions. She offers to take him out and he accepts. They wind up going back to Debra's, which is actually Dexter's place since Dexter offered her a place to stay until she got back on her feet. Soon after entering, they start to get intimate. Before they begin, Debra handcuffs Gabriel to the bed and says it is because, "My last boyfriend tried to kill me". Dexter arrives home early and mistakes the sounds from his bedroom as Debra working out. Dexter enters to tell her to quit and is surprised to find her on top of Gabriel. Needless to say, the next morning is awkward.
During the beginning course of their relationship, Debra becomes very suspicious of Gabriel, even to the point of searching his personal belongings. She explains her past experience with Rudy, but finds that Gabriel is clueless as to who the Ice Truck Killer was: He says that he was out of the country visiting relatives for the past six months and had not heard about the brutal serial killer. Gabriel writes children's books for a living. One of his books, entitled "The Ice Princess", caused Debra to end their budding relationship; she believed that the book was a crime novel detailing her relationship with the Ice Truck Killer. After learning that "The Ice Princess" was actually an unrelated children's book, Debra quickly apologized to Gabriel. They made up and went on a few more dates before Debra decided to break it off because of her increasing attraction to FBI Special Agent Frank Lundy.
References
↑ Episode 205: The Dark Defender, when Deb discovers an email regarding the "Ice Princess"