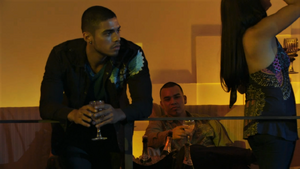 Fuentes Brothers are characters in Season Five of the Showtime series DEXTER.
They were a two-brother team, responsible for a string of robbery-homicides in Miami.
Summary
Carlos and Marco grew up in Venezuela and immigrated to the U.S., ending up in Miami. They enjoyed spending money at Club Mayan, usually sitting in the V.I.P. section. To afford this, the brothers would coerce people to withdraw large amounts of cash from nearby ATMs by holding a loved one hostage, Once the brothers received the money, they would kill the people with a machete to leave no witnesses. Some of their victims were decapitated and Santa Muerte artifacts placed around their heads.
Killers
Victims
Attempted Victims
Appearances
Related Pages
Notes
Dexter gave the nickname "Machete Man" to whoever cut off Fauzi Goberi's head.