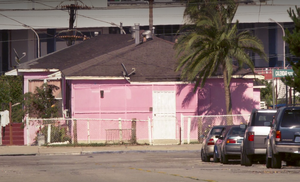 Fred Bowman's House is a location in Season Three of the Showtime series DEXTER.
It is the home of a drug dealer and murderer, Fred Bowman aka Freebo. The exterior is painted pink with a white door. Across the front, there is a chain-link fence.
Summary
Dexter Morgan targets a drug dealer, Fred "Freebo" Bowman, who got away with the murder of two female college students. Pretending to be a heroin addict, Dexter approaches Freebo's house and is admitted inside by his doorman, Wendell. The interior is poorly lit, and Freebo is playing a bowling game on a large screen TV. While Freebo is making a deal with Dexter, Teegan Campbell enters the room, needing a hit. However, Freebo refuses to help her and she angrily leaves the house.
That night, Dexter returns to the house to kill Freebo, but finds him fighting with another man. When Freebo breaks free and takes off, the man turns his attention to Dexter and attacks him with a bayonet. Dexter turns the blade around, stabbing and killing the man in self-defense. Dexter grabs the bayonet and flees, shocked that he broke the Code of Harry by killing an unvetted (and perhaps innocent) person.
The next morning, Dexter is called to his own crime scene and is told the name of the man he killed -- Oscar Prado. Unfortunately, he is the brother of well-known Assistant District Attorney, Miguel Prado. Also, Oscar's other brother who works for the sheriff's department, Ramon Prado, is on scene. Later, Miguel asks Dexter to use his forensic expertise and describe the scenario in which his brother died. Dexter, with no difficulty, tells Miguel all the details.
Related Pages
Galllery