Florencia Estrada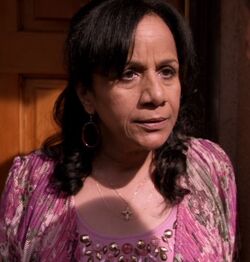 Florencia Estrada is a character in Showtime's series DEXTER. 
She was the wife of Hector Estrada, a drug lord who ordered the death of Laura Moser.
Summary
Dexter Morgan tracks down Hector Estrada's wife after his first attempt to kill him goes wrong, due to the intervention of Maria LaGuerta. He goes to Florencia's apartment, pretending to be Hector's parole officer -- Arthur Curry. Florencia says that Hector is not there, but Dexter suspects that the two still remain in contact when she claims to remain married to Hector only because she is Catholic.  
Dexter continues to shadow Florencia, following her to a public park where she meets with Hector, confirming Dexter's suspicion that the two are still in cahoots. When Florencia leaves, Hector takes a nap on the bench and Dexter later captures and kills him. 
Related Pages
Community content is available under
CC-BY-SA
unless otherwise noted.