Ethan Turner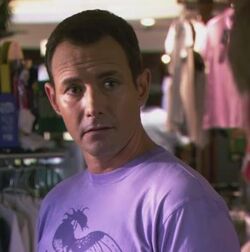 Character Profile
Portrayed By
Larry Sullivan
Season(s)
Season Three
First Appearance
Turning Biminese
Last Appearance
Turning Biminese
Appears in
One Episode
Character
Full Name
Ethan Turner
Status
Deceased
Manner of Death
Stabbed in the chest by Dexter Morgan
Characteristics
Age
35 (at death)
Gender
Male
Eyes
Green
Hair
Brown
Personal Status
Marital Status
Widowed (Twice)
Spouse
Unnamed wife
Cindy Turner
Immediate Relatives
Two unnamed stepdaughters
Killer Profile
"No Known Alias"
Inactive
Number of Victims
Two
Modus Operandi
Tools/Weapons
Drugs and hands
Killing Method
Overdose (First wife)
Drowning (Cindy Turner)
Method of Disposal
None (First wife)
Thrown in ocean (Cindy Turner)
Cause
Implied he killed them for their money
Ethan Turner
is a character in
Showtime
's series
DEXTER
.
He was a murderer who killed two of his wives for their money and assets.
Summary
Miguel Prado mentions him in a conversation with Dexter Morgan. According to Miguel, Ethan got away with his first wife's murder by staging it as an overdose of pain meds. More recently, he killed his second wife while on a cruise in international waters where Miguel has no jurisdiction. Dexter decides to investigate Ethan himself.
Dexter watches Ethan at a sporting goods store and makes casual conversation with him. Once he discovers that Ethan is headed on a cruise to Bimini, Bahamas, Dexter follows him onto the ship. Once on board, he creeps up on Ethan after he gets out of the shower in his room and knocks him out with M99
Dexter laments that, due to the ship's schedule, he has to rush through his usual ritual. He plays loud music from an iPod and stuffs Turner's mouth to keep the noise down. Then, not having time to savor the moment, quickly kills Ethan, dismembers him, and dumps his remains out of one of the ship's portholes. Like his second wife, Ethan is later declared missing when he is not found on the ship.
Meanwhile, Rita Bennett has been taken to the hospital. Miguel, believing that Dexter is fishing at Mercy Reef, sends the coastguard to look for him. When they can't find him, along with the sudden disappearance of Ethan, Miguel concludes that Dexter is a vigilante killer and killed Ethan. Afterwards, the two work together until the relationship comes to a bitter end, when Miguel violates The Code of Harry by killing an innocent.
Known Victims
Related Page
Gallery
Community content is available under
CC-BY-SA
unless otherwise noted.