Esmée Pascal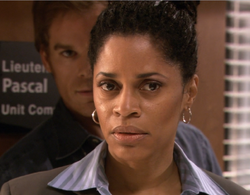 Character Profile
Portrayed By
Judith Scott
First Appearance
Born Free
Last Appearance
See-Through
Character
Full Name
Esmée Pascal
Aliases
None
Status
Alive



Characteristics
Age
Mid 40s
Gender
Female
Eyes
Brown
Hair
Black
Personal Status
Marital Status
Single



Professional Status
Profession
Police Officer
Esmée Pascal is a character in DEXTER. She is a Haitian-American police officer who is considered a "real up-and-comer" after being shot in the line of duty.
Season One
When LaGuerta oversteps her authority and embarrasses Captain Matthews with new developments in the Ice Truck Killer Investigation, Matthews brings Pascal in to replace her.
Season Two
Pascal remains Lieutenant of the department well over a month after the end of the case, earning the trust of the police officers and friendship of LaGuerta, but soon began to crack under pressure when she began experiencing personal problems with her fiancé Bertrand, suspecting him of adultery on little real evidence, which gradually casts doubt on her rationality. Her obsession becomes so strong that she uses department resources to investigate him; tracking his phone calls and has the forensics department do tests on his shirt, looking for a smell. Due to all of this, Captain Matthews returns control of the Homicide Division to LaGuerta, who was later revealed to be the one having an affair with Pascal's fiancé in the first place, as a way to get her old job back. She breaks it off as soon as her goal was accomplished.