Erin Baer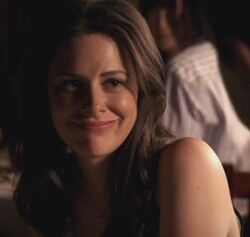 Erin Baer is a character in Season Six of Showtime's series DEXTER.
She was a waitress who had a very brief relationship with Travis Marshall.
Season Six
Description
Erin was an attractive, young woman with bright hazel eyes and long, brown hair.
Personality
Erin's bubbling personality could charm any patron.
Summary
Erin worked in the Glass House Cafe at the Miami Cultural Center (mentioned in "The Angel of Death").
Travis imagined a dialog with his previous mentor, Professor James Gellar. Gellar did not approve of Travis' involvement with Erin. He told Travis that although it was his choice to do as he wished, he would pay the consequences for his actions.
Gellar kept a close eye on the two, even disturbingly watching them as they made love one night. The next morning, Travis found Erin tied up. Travis was going to set her free, but Gellar said that, by "defiling" her, he made Erin part of God's plan.
Later at the Botanical Gardens, Miami Metro arrived at a crime scene where an Alpha and Omega symbol had been created on the ground. Blood on nearby shrubbery led them to a green house, where Erin (still alive) had been strung up, with her mouth gagged.
Erin tried her best to warn the others not to approach her. Debra Morgan noticed her panic and stood still. Although Debra spotted the trip wire, however, one of the fellow officers did not. Debra called out, telling her not to move, but the officer tripped the wire. The trap mechanism immediately released Erin's support harness.
In an event that took place in only five seconds, Erin's body fell down while the collar around her neck punctured her jugular vein. Her arms, attached to angel wings, were strung up to her sides. Unfortunately for her, she became the sacrifice in The Angel of Death tableau.
Related Pages
Gallery
Community content is available under
CC-BY-SA
unless otherwise noted.