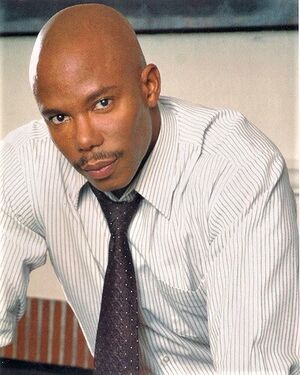 Erik King (born 21 April 1963) is an American actor best known for his role Sergeant James Doakes on Showtime's television series, DEXTER. King played the role of Doakes for the first two seasons of the show, and reprised his role in a Season Seven episode in flashback scenes.
Appearances
Season One (2006):
Season Two (2007):
Season Seven (2011):
Career
Early roles for King were in TV series such as Matlock, NYPD Blue and JAG. In 1990, he starred in the short-lived ABC police drama Sunset Beat. He appeared as Moses Deyell in HBO's television series Oz. Other episodic work includes Malcolm in the Middle, Charmed and CSI: Miami. King appeared on The District as Travis Hayward, as well as CBS' Touched by an Angel. He has also appeared in multiple feature films, including the adventure film National Treasure, and the thriller Desperate Measures.
Gallery