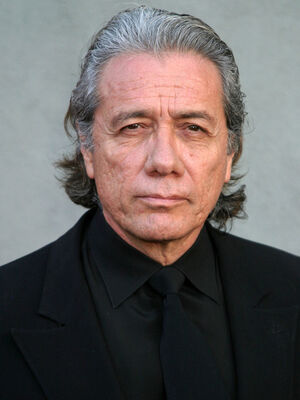 Edward James Olmos (born 24 February 1947) is a Mexican-American actor, and director.
He played Professor James Gellar on Showtime's DEXTER.
Appearances
Career
He is known for his roles as William Adama in the re-imagined Battlestar Galactica, Lieutenant Martin "Marty" Castillo in Miami Vice, teacher Jaime Escalante in Stand and Deliver, patriarch Abraham Quintanilla, Jr. in the film Selena, Detective Gaff in Blade Runner and Blade Runner 2049, narrator El Pachuco in both the stage and film versions of Zoot Suit, and the voice of Chicharrón in Coco.
In 1988, Olmos was nominated for an Academy Award for Best Actor in a Leading Role for the film Stand and Deliver.
Personal Life
Olmos was born and raised in Los Angeles. His parents separated when he was seven years old, and he was mostly raised by his great-grandparents. He grew up wanting to be a professional baseball player and, at age thirteen, he joined the Los Angeles Dodgers' farm system playing as a catcher. He left baseball at age fifteen to join a rock and roll band, which caused a rift with his father. He graduated from Montebello High School in 1964.
From 1979 to 1987, Olmos lived in West New York, New Jersey. In 1971, he married Katija Keel, the daughter of actor Howard Keel. They had two children, Bodie and Mico, before divorcing in 1992. Olmos has four adopted children. She filed for divorce in January 2002 after five years of separation. Olmos also had a long term relationship with actress Lymari Nadal. They married in 2002.
Trivia
Asteroid 5608 Olmos is named in his honor.
In 2007, after a seven-year process, he obtained Mexican nationality.
In 1996, he was awarded an honorary Doctorate of Fine Arts from California State University, Fresno.
Gallery