Ed Hamilton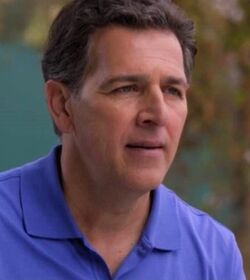 Character Profile
Portrayed By
John D'Aquino
Season(s)
Season Eight
First Appearance
This Little Piggy
Last Appearance
A Little Reflection
Appears in
Two Episodes
Character
Full Name
Edward Hamilton
Nicknames
Ed
Asshole (by Zach)
Status
Alive
Characteristics
Age
50s
Gender
Male
Eyes
Brown
Hair
Black (graying)
Personal Status
Marital Status
Married
Spouse
Mrs. Hamilton
Immediate Relatives
Zach Hamilton (son)
Professional Status
Profession
Entrepreneur
Ed Hamilton is a character in Season Eight of the Showtime series DEXTER.
He is the head of a highly wealthy, upper-class family in Miami.
Personality
Although married, he feels entitled to have affairs with his female employees. He is also the father of Zach Hamilton, with whom it appears he has a distant relationship.
History
It is stated by Thomas Matthews that Ed Hamilton is a friend of the Miami Metro Police Department and that he has, in the past, made generous donations to the department.
Summary
Norma Rivera (the former maid for the Hamilton family) is found bludgeoned to death in her apartment. Since Ed Hamilton was her employer, he is viewed as a suspect. Dexter Morgan accompanies Joey Quinn and Angie Miller to the Hamilton home to question him. The housekeeper leads them through the house and out to the backyard where Ed is working on a laptop by the pool.
When Dexter attempts to collect a DNA swab from Ed, he admits to having an affair with Norma and they had sex shortly before she was murdered. He professes to be innocent because he loved her.
Ed soon begins an affair with another employee, Sofia Fuentes. Meanwhile, his series of affairs have caused Mrs. Hamilton to become depressed and drink heavily. Around this time, Ed sends his son to start seeing Dr. Evelyn Vogel, as Zach seems to have a propensity for violence.
Dexter breaks into Zach's studio and confirms that Zach killed Norma and appears to be targeting Sofia. However, when he stalks Zach, he discovers that he is planning to kill his father, not Sofia. Ed is saved by the intervention of Dexter who kidnaps Zach for his table. Ed is oblivious to his son's attempt to kill him.
While facing death, Zach admits to killing Norma because he was trying to save his mother from succumbing to alcoholism. Zach thought that if he killed Norma, his father would be faithful to his mother. When he wasn't, Zach decided to kill him.
Attempted to Kill Ed
Related Pages
Gallery
Community content is available under
CC-BY-SA
unless otherwise noted.