Diego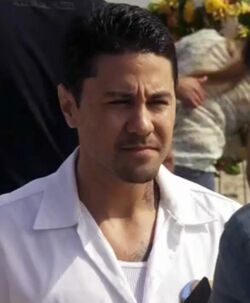 Diego is a character in Season Six of the Showtime series DEXTER.
He is an ex-convict who worked as a mechanic in Brother Sam's body shop, named Good Shepherd Auto Repair.
Season Six
Dexter Morgan began his investigation of Brother Sam by purposely causing an accident with his vehicle, which damaged the back bumper. He then took his car Brother Sam's body shop to have a legitimate reason for being there.
One of the mechanics, Diego, asked Dexter if he was Eddie's parole officer. Dexter cleared that up and asked for Brother Sam. He met with Sam who complied an estimate while they learned a bit each other. Just then, one of Sam's workers informed him that Nick hadn't shown up for work again. Sam told the worker to call Nick and say that he was coming for him.
When Brother Sam was shot by an intruder, Diego gave a speech to all his co-workers, saying to have faith. Then he, along with Dexter and the other ex-cons, went to Brother Sam's hospital room, after he became conscious. Dexter asked Diego if the fact that Sam woke up was a good thing, but Diego said it may be a sign that he was going to die. Diego also told Dexter that Sam was asking for him.
At Brother Sam's funeral, Diego gave a eulogy about Brother Sam on the same beach where Nick was baptized. He then deposited Brother Sam's ashes in the ocean and let them drift off to sea. Afterward, Diego told Dexter that Brother Sam wanted Dexter to have his bible, of which several pages were soaked with Sam's blood. Dexter tried to explain that he wasn't into religion but Diego insisted, saying that Brother Sam felt that Dexter needed the bible more than he did. When Diego asked Dexter if he had seen Nick, he replied "No."
Related Pages
Gallery
Community content is available under
CC-BY-SA
unless otherwise noted.