Dexter's Rented Room is a location in Season Eight of the Showtime series DEXTER.
It's where Dexter Morgan lived after he left Miami.
Location
Oregon, U.S.
Summary
Dexter, after dropping Debra Morgan's body into the water, he pilots the Slice of Life toward Hurricane Laura, in what appears to be suicide. After the storm clears, wreckage of his boat is found off the coast of Virginia Key, a Biscayne Bay barrier island. Dexter is presumed dead by both his friends at Miami Metro and by Hannah McKay (who is with Harrison, living in Argentina). In reality, Dexter had used a motorized emergency life raft to escape death from the hurricane.
In the final scenes, Dexter is working as a log truck driver in the Pacific Northwest. In the background, there is a forested hillside. Dexter, who is now bearded and wearing a plaid shirt, heavy vest, jeans, and boots, finishes his work. He walks through the logging town until he reaches a run-down rental house. A small boat is seen in the yard, along with a body of water in the background. He walks up the steps, unlocks the door, and enters a drab room. The room contains only a single bed, two wooden chairs, a table, and lamps. Dexter takes off his vest, throws it on the bed, and sits down at the table. He looks out of the window after which he faces forward. Closing his eyes for a moment, he opens them, and stares directly into the camera.
Related Pages
Trivia
The house is located at 51st Street and Birch in Astoria, Oregon. The water in the background is the Port of Astoria that is situated on the Columbia River which flows into the Pacific Ocean. [1]
Gallery
Featured Photo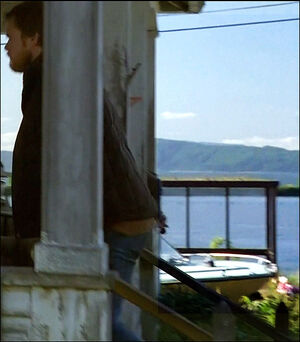 References