Dexter's Neighbor (10A)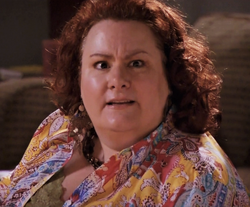 Character Profile
Portrayed By
Donna Pieroni
Season(s)
Season Five
First Appearance
My Bad
Last Appearance
My Bad
Appears in
One Episode
Character
Full Name
Unknown
Nicknames
10A
Cat Lady (Debra Morgan)
Status
Alive
Characteristics
Age
Mid-40s
Gender
Female
Eyes
Brown
Hair
Red
Personal Status
Marital Status
Single
Address
8420 Palm Terrace #10A
Miami FL, 33142
Professional Status
Profession
Unknown
Dexter's Neighbor (10A) is a Character in Season Five of Showtime's series DEXTER.
She lives on the floor below Dexter Morgan in Apartment 10A.
Summary
After his wife's death, Dexter Morgan decides to disappear. He leaves his son, Harrison, in 10A's care until Debra Morgan arrives back at his apartment, where she is currently living.
Debra, upset that Dexter didn't keep his appointment with the FBI, hurries home. She bursts through the door and sees 10A feeding Harrison. She twice asks 10A, "Who the fuck are you?" which clearly offends the woman. The woman explains that she's from downstairs and is watching Harrison. She asks Debra, "You're the sister, right? ...He said you would know what to do."
As the neighbor begins to leave, Debra orders her to stay, and walks into the bedroom to call Dexter. Unable to reach him, she leaves a message, calling the woman the "fucking cat lady."
Trivia
The character is referred to as "Large Woman" in the credits. [1]
She is the only person that is ever shown living in Dexter's apartment complex, apart from Cassie Jollenston.
Related Pages
References
Community content is available under
CC-BY-SA
unless otherwise noted.