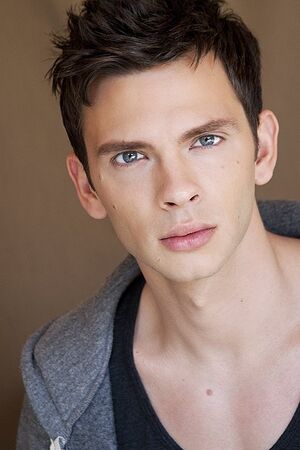 Devon Graye Fleming (born 8 March 1987) is an American actor.
In 2006 and 2007, hee played Teenage Dexter on Showtime's TV series DEXTER.
Appearances
Career
Films
His credits for movies include roles in Her Best Move (2007); Scar (2007); Call of the Wild (2009); Exodus Fall (2009); Legendary (2010); Husk (2011); The Discoverers (2012); Eden (2012); Last Weekend (2013); Khumba (2013, Voice); 13 Sins (2014); I Am Michael (2015); Search Engines (2016); Retake (2016); and I Don't Feel at Home in This World Anymore (2017).
Shorts
His shorts include One Bad Thing (2012 Short film).
TV Movies
His TV movie credits include roles in A House Divided (2006); Wisegal (Narrator, 2008); Avalon High (2010); Merry Christmas, Drake & Josh (2008); and Red Faction: Origins (2011).
Television
His TV credits include appearances on Close to Home; Bones; CSI: Miami; Leverage; Saving Grace; CSI: Crime Scene Investigation; The Deep End; The Protector; Alphas; Body of Proof; American Horror Story: Asylum; The Night Shift; The Mentalist; The Flash; and S.W.A.T.
Personal Life
Graye was born in Mountain View, California, He studied acting at the American Conservatory Theater in San Francisco. Although Graye is American, he lived in the United Kingdom for all four years of high school. He has been dating actor Jordan Gavaris since September 2012.
Trivia
Graye wrote a thriller screenplay titled Allison Adams, which was featured on the 2016 Black List for most popular unproduced screenplays.
Gallery