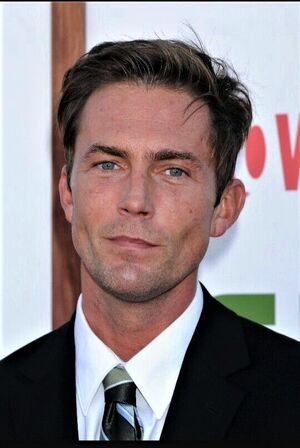 Desmond Harrington (born 19 October 1976) is an American actor.
From 2008 - 2013, he played Detective Joey Quinn in the Showtime series DEXTER.
Appearances
He joined the show in its third season and became a main cast member. He appeared in 72 episodes.
Career
Film
His film credits include roles in The Neon Demon (2016); The Dark Knight Rises (2012); Not Since You (2009); Life Is Hot in Cracktown (2009); Timer (2009); Exit Speed (2008); Stories USA (2007); Taphephobia (2006); Bottoms Up (2006 Video); Three Way (2004); Wrong Turn (2003); Love Object (2003); Ghost Ship (2002); We Were Soldiers (2002); Riding in Cars with Boys (2001); The Hole (2001); My First Mister (2001); Massholes (2000); Boiler Room (2000, uncredited); Drop Back Ten (2000); and The Messenger: The Story of Joan of Arc (1999).
TV Movies
His TV movies include roles in Fort Pit (2007).
Shorts
His shorts include Blind Serenade (2008); and Life Makes Sense If You're Famous (2002).
Television
His TV credits include roles on Manhunt; Elementary; Sneaky Pete; Brooklyn Nine-Nine; Shooter; Limitless; The Astronaut Wives Club; Those Who Kill; Gossip Girl; Justified; Family of Secrets; Rescue Me; Sons & Daughters; Kidnapped; Law & Order: Criminal Intent; Saturday Night Live (uncredited); Dragnet; and Taken (miniseries).
Personal Life
He was born in Savannah, Georgia and raised in the Bronx, New York. He attended Manhattan college briefly, worked as a laborer, landscaper, a cold caller at a brokerage firm, and finally a bartender in Manhattan, where a co-worker invited him to attend an acting class.
Trivia
Desmond has a black rose tattoo on his right arm, and another with the name of his grandmother, Maureen.
He appeared on Limitless (2015) with co-star Jennifer Carpenter, who he worked with on Dexter.
Gallery