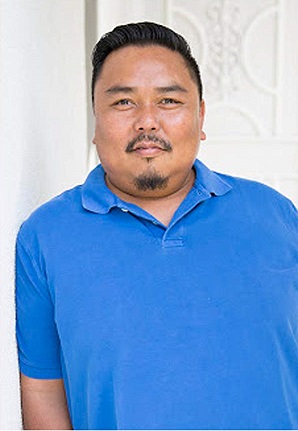 Derek Basco (born 29 August 1970) is an American actor, producer, director, and writer.
In 2010, he played County Records Clerk (credited as Records Clerk) in Showtime's series DEXTER.
Appearances
Career
Film
His film credits include roles in The First Purge (2018); This Is 40 (2012); Finding Madison (2008); Alien Raiders (2008); Stolen Souls (2006 Video); All In (2006); Perfect Opposites (2004); Naked Brown Men (2003); Spider's Web (2002); The Debut (2000); Beverly Hood (1999); Pros & Cons (1999); Six Days Seven Nights (1998); Tiger Heart (1996, uncredited); Sgt. Bilko (1996); and A Dangerous Place (1994).
TV Movies
His TV movies include Kevin Hart's Guide to Black History (2019); Can't Buy My Love (2017); Delores & Jermaine (2015); How to Be a Better American (2010); Sorority (1999); Riot (1997); Time Well Spent (1996); and Matters of the Heart (1990).
Shorts
His shorts include Flip the Record (2017); The Guild (2012 series shorts); and 69 Cents (2007).
Television
His TV credits include appearances on Speechless; How to Get Away with Murder; Hawaii Five-0; NCIS: Los Angeles; LA to Vegas; The Detour; Lady Dynamite; Adam Ruins Everything; The Odd Couple; The Real O'Neals; The Last Ship; Sidetracked; Legit; Rake; The Middle (uncredited); It's Always Sunny in Philadelphia; Party Down; 24; Avatar: The Last Airbender (voice); Hannah Montana; The Shield; Dragnet; Love & Money; Will & Grace; Becker; L.A. Heat; Saved by the Bell: The New Class; Vanishing Son; and Wings.
Video Games
2004: Grand Theft Auto: San Andreas
Personal Life
Derek was born in Pittsburg, California. He is the eldest of three brothers and one sister. He lives in Los Angeles and is married to Emily Cho. [1]
Trivia
He is of Filipino descent.
References
Community content is available under
CC-BY-SA
unless otherwise noted.