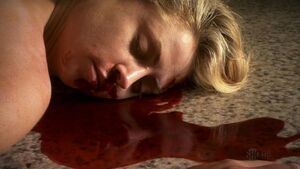 Dead Call Girl Case is a police investigation in Season Six of Showtime's series DEXTER.
It involved the death of a high-class call girl named Jessica Morris.
Season Six
Suspected Cause
Accidental Death - It was originally suspected that Jessica Morris simply overdosed on heroin and unintentionally killed herself. This is later confirmed by the M.E.'s report but was later shown by the blood work that one other person was in the room with her at the time. It is eventually revealed that Deputy Chief Thomas Matthews was in the room with her when she overdosed on heroin.
History
Jessica Morris was a call girl who met with Thomas Matthews at certain points in time.
Detectives on Case
Other Operatives Involved
Victim
Fallout from Case
Because of his implications in the accidental death, Thomas Matthews is forced into early retirement as a result of Maria LaGuerta's betrayal.
Closure of Case
The case has been officially closed. This is due in part to the fact the M.E.'s report proves that the head trauma and overdose is what killed Jessica Morris.
Fate of Killer
Jessica Morris killed herself inadvertently through a heroin overdose combined with blunt force trauma to the head when she fell on the hotel bath steps.
Community content is available under
CC-BY-SA
unless otherwise noted.