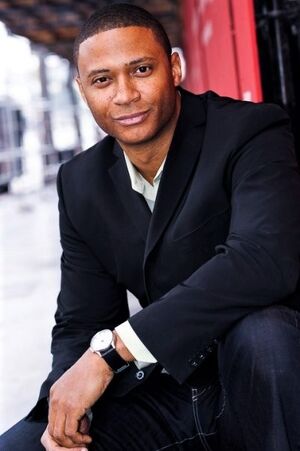 David Ramsey (born 17 November 1971) is an American actor and director.
From 2008 - 2009, he played Anton Briggs, a musician and a pot-smoking confidential informant, on Showtime's DEXTER.
Appearances
Career
Film
His film credits include roles in Illicit (2017); Accidental Love (2015); Draft Day (2014); Mother and Child (2009); The Rub (2009); The Coverup (2008); Bobby Z (2007); Resurrection: The J.R. Richard Story (2005); Hair Show (2004); Mr. Bones (2001); Pay It Forward (2000); Three to Tango (1999); Con Air (1997); A Very Brady Sequel (1996) and The Nutty Professor (1996).
TV Movies
His TV movies include Hello Sister, Goodbye Life (2006); Fatal Contact: Bird Flu in America (2006); Central Booking (2005); Jane Doe: The Wrong Face (2005); The Flannerys (2003); Romeo Fire (2002); Ali: An American Hero (2000); Mutiny (1999); CHiPs '99 (1998); Her Costly Affair (1996); and Sanctuary of Fear (1979).
Shorts
His shorts include Superhero Fight Club 2.0 (2016); Bathsheba (2005); and A Short Wait Between Trains (1998).
Television
His TV credits include roles on Arrow; DC's Legends of Tomorrow; The Flash; Supergirl; Blue Bloods; The Defenders; Outlaw; Grey's Anatomy; Castle; Wildfire; Hollywood Residential; Ghost Whisperer; Journeyman; Criminal Minds; CSI: Crime Scene Investigation; The West Wing; All of Us; Huff; Second Time Around; Charmed; CSI: Miami; Crossing Jordan; One on One; NCIS; Strong Medicine; The Guardian; For the People; Thieves; Girlfriends; For Your Love; Mama Flora's Family (Mini-Series); The Good News; Crisis Center; Deutschlandlied (Mini-Series); Space: Above and Beyond; Murder One; Unsolved Mysteries; and For Richer, for Poorer.
Personal Life
He was born in Detroit, Michigan.[1] He graduated from Wayne State University.
Trivia
Ramsey is an accomplished martial artist, with a black belt in jeet kune do. He has also studied boxing and tae kwon do, and trained in kickboxing under Benny "Jet" Urquidez.
Gallery
References