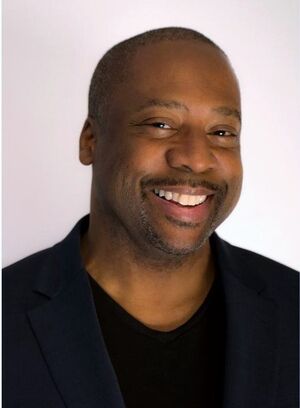 David J. Curtis, aka David Curtis, is an actor, producer, and stunt performer.
He plays Gig, a butcher, in the Showtime special event series Dexter: New Blood.
Appearances
Career
Film
His film credits include roles in Blood and Money (2020); Little Women (2019); Diamond Ruff (2015); Stories for Dinner (2014); R.I.P.D. (2013); YtF (2012); 4 Cambridge Center (2011); The Last Harbor (2010); Edge of Darkness (2010); Mother G (2009); The Maiden Heist (2009); Interviewing Norman (2005); The Skeleton Key (2005); and The Gathering (2002).
TV Movies
His TV films include roles in The Grilled Cheese Party (2021); Clear History (2013); and The Makeover (2013).
Shorts
His shorts include Gloveless (2013); Ocean Boulevard (2013, voice); Under the Hood (2008); and Wrong Hollywood Number (2003).
Television
His TV credits include roles in Kevin Can F**k Himself; Chasing Life; How to Make It in America; and Slavery and the Making of America.
Theatre
His stage credits include Identity Crisis; A Soldier's Play; To Hell with this Village; Brokeology; The Last Days of Judas Iscariot; Ascension; Mama, I Want to Sing; A Streetcar Named Desire; 12 Angry Jurors; and The Crucible.
Additional
David has been featured in many regional and national television commercials, voiceovers, and industrial/educational videos. He is also an accomplished percussionist/drummer, producer, engineer, and composer.
Personal Life
TBA
Trivia
Height: 6'3"
He is a member of the SAG/AFTRA union.