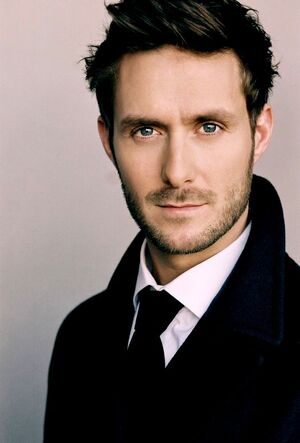 Darri Ingolfsson (born 22 December 1979[1] ) is an actor and director.
He portrayed Oliver Saxon, a serial killer known as The Brain Surgeon, on Showtime's DEXTER.
Appearances
Career
Films
His film credits include roles in The Clinic (2018); The Hatred (2017); Money Monster (2016); Brave Men's Blood (2014); Borgríki 2 (2014); Joshua Tree, 1951: A Portrait of James Dean (2012); The Old Leave Behind (2011); The Girl with the Dragon Tattoo (2011, uncredited); Boðberi (2010); Messenger (2010); Flags of our Fathers (2006); Red Canopy (2006 Video); and Arctic Passage (2005).
TV Movies
His TV movies include He's Watching (2018); The Girl in the Café (2005, uncredited); and The Search for the Northwest Passage (2005).
Shorts
His shorts include Alice in Chains: Never Fade (2018); Avalon (2016);The Rookery (2013); Hotel Pennsylvania (2013); I Have No Hold on You (2012); Escape (2012); I Have No Hold on You (2010); and Committed (2009);
Television
His TV credits include NCIS; Alice in Chains: Black Antenna; Hicksters; The Orville; S.W.A.T.; The Originals; Rizzoli & Isles; NCIS: New Orleans; Castle; Criminal Minds; Stalker; NOVA; Sequestered; NCIS: Los Angeles; Haven; Last Resort; Canvassing!; and Mannaveiðar.
Personal Life
He was born in Reykjavík, Iceland. A native of Iceland, Ingolfsson was one of those who watched the film industry from a distance, gaining an appreciation and respect for the art of American cinema. Having moved to America, he has graced the big and small screens.
Gallery
References