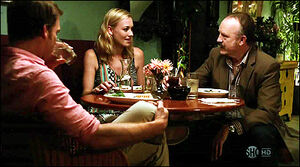 Dane's Restaurant is a location in Season Seven of the Showtime series DEXTER.
It is a place where Hannah McKay, Clint McKay, and Dexter Morgan had dinner together.
Location
South Beach
Miami, Florida
Summary
Clint McKay, Hannah's disreputable father, shows up at her house one morning, apologizing for being a bad father. Although Hannah distrusts him, they then meet for coffee and she shows him the flower mart. Things go well, and Hannah texts Dexter with an invite to meet them for dinner at Dane's.
During dinner, Clint is in a jovial and talkative mood. As Hannah warms up to her estranged father, he claims to have turned over a new leaf, abandoned his gambling ways, and will earn an honest living. He plans to leave soon for Louisiana to open a crawfish farm called "Big Clint's Crawdaddies" that will ship crawfish fresh anywhere in the country. Hannah believes her father, and tells him that she is excited and proud of him. She even invites him to stay at her house instead of the motel, and he accepts. Dexter remarks that he will bring them donuts for breakfast.
Subsequent Events
Unfortunately, the next morning, Clint proves that he hasn't changed when he tries to hit Hannah up for $20,000 toward his crawfish farm. When Hannah tells him she doesn't have the money, he suggests she re-mortgage her house. When she won't do this, he becomes furious and takes off, with Hannah second-guessing her refusal. After getting drunk, Clint returns to ram her greenhouse with his truck and yell hurtful insults at her.
Clint later tries to blackmail Dexter into getting the money by threatening to tell the police about Arlene Shram, a witness who could put Hannah in prison. Clint admits to Dexter that he lied about the crawfish farm and really needs the money to pay off his gambling debts. Dexter tricks Clint into meeting him at a parking garage to pick up the cash. To protect Hannah, Dexter captures Clint and kills him on the Slice of Life.
Related Pages
Gallery