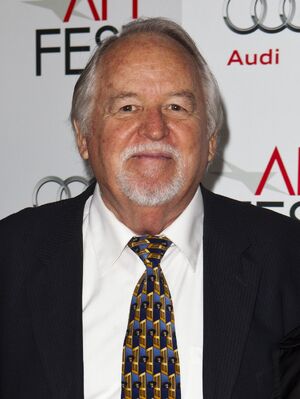 Dakin Matthews (born 7 November 1940) is an American actor in film, television, and theater. He is also a playwright, director, and theatrical scholar.
In 2006, he played Dr. Pittman, a medical examiner, on Showtime's series DEXTER.
Appearances
Career
Film
His film credits include roles in Bridge of Spies (2015); My Eleventh (2014); Zero Charisma (2013); Lincoln (2012): The Eagle (2011); True Grit (2010); The Fighting Temptations (2003); Thirteen Days (2000); Gen¹³ (2000 Video; voice); An Extremely Goofy Movie (2000 Video; voice, uncredited); The Muse (1999); The Siege (1998); Flubber (1997); Bean (1997); Stuart Saves His Family (1995); The Swan Princess (1994); Undercover Blues (1993); Rising Sun (1993, uncredited); The Temp (1993); Child's Play 3 (1991); Eve of Destruction (1991); Ghost Dad (1990); The Fabulous Baker Boys (1989); Wired (1989); Clean and Sober (1988); Funny Farm (1988); Sunset (1988): Permanent Record (1988); Nuts (1987); and Like Father Like Son (1987).
TV Movies
His TV movie credits include roles in The Big Time (2002); Best Friends for Life (1998); Nothing Lasts Forever (1995); Virus (1995); The Enemy Within (1994); Menendez: A Killing in Beverly Hills (1994); White Mile (1994); Staying Afloat (1993); Hart to Hart Returns (1993); And the Band Played On (1993); Rio Shannon (1993); Criminal Behavior (1992); Revolver (1992); Grave Secrets: The Legacy of Hilltop Drive (1992); For Richer, for Poorer (1992); Murder Without Motive: The Edmund Perry Story (1992); Under Cover (1991); ...And Then She Was Gone (1991); Jailbirds (1991); White Hot: The Mysterious Murder of Thelma Todd (1991); The Perfect Tribute (1991); The Whereabouts of Jenny (1991); Fine Things (1990); My Brother's Wife (1989); Cross of Fire (1989); Out on the Edge (1989); Guts and Glory: The Rise and Fall of Oliver North (1989, uncredited); Naked Lie (1989); and Terrorist on Trial: The United States vs. Salim Ajami (1988).
Shorts
His shorts include The Swan Princess: Sing Along (1998); and Body Wars (1989).
Television
His TV credits include appearances on Instinct; The Resident; Gotham; Doubt; Gilmore Girls: A Year in the Life (Mini-Series): Madam Secretary; Crunch Time (Mini-Series); BrainDead; Blue Bloods; Veep; Elementary; The Big Bang Theory; Devious Maids; Mr. Box Office; The Mentalist; Castle; The Good Wife; Desperate Housewives; Two and a Half Men; True Blood; Better Off Ted; General Hospital; Parks and Recreation; Cold Case; Eli Stone; Shark; The King of Queens; Medium; Gilmore Girls; Boston Legal; Huff; Jake in Progress; Stargate SG-1; The Closer; Jack & Bobby; Carnivàle; House; NYPD Blue; The Lyon's Den; The Practice; Providence; Judging Amy; Family Affair; Charmed; Leap of Faith; Citizen Baines; First Years; Diagnosis Murder; Dharma & Greg; Ally McBeal; The Geena Davis Show; The Michael Richards Show; The West Wing; Family Law; Just Shoot Me!; City of Angels; Star Trek: Voyager; The Nanny; Holding the Baby; Vengeance Unlimited; Soul Man; From the Earth to the Moon (Mini-Series); Touched by an Angel; Rough Riders (Mini-Series); EZ Streets; Mr. & Mrs. Smith; The Jeff Foxworthy Show; Ink; Nash Bridges; The Office; Murder, She Wrote; Coach; Picket Fences; L.A. Law; Cutters; Herman's Head; Drexell's Class; Doctor Doctor; Down Home; Who's the Boss?; Blind Faith (Mini-Series); Christine Cromwell; My Two Dads; Dear John; TV 101; Dallas; Something Is Out There; Aaron's Way; Newhart; American Playhouse; Matlock; Easy Street; Fresno (Mini-Series); St. Elsewhere; and Remington Steele.
Personal Life
He was born in Oakland, California. His wife is wife is actress/director Anne Marie McNaughton. They have four children. He divided his time between Los Angeles and San Francisco until 1990, then settled in L.A.
Trivia
His birth name is Melvin Richard Matthews.
He began his stage career in 1965 in the San Francisco Bay Area.
He has a degree in theology with the intention of becoming a Roman Catholic priest.[1]
Gallery
References
Community content is available under
CC-BY-SA
unless otherwise noted.