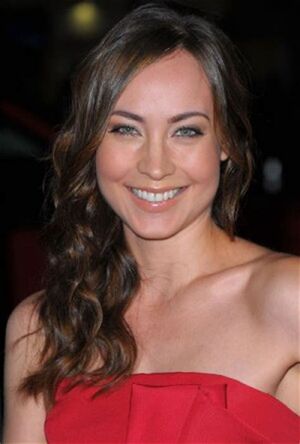 Courtney Braden Ford is an American actress.
She played Christine Hill, a reporter and daughter of a serial killer, on the Showtime series DEXTER.
Appearances
Career
Ford is known for her roles on television as the lead in the Lifetime television film Kept Woman and in True Blood as Portia Bellefleur. She also appeared in the ninth episode of season four of How I Met Your Mother titled "The Naked Man" and The Big Bang Theory season five episode "The Good Guy Fluctuation." In the game series Gears of War, Ford voices Maria Santiago, the lost wife of the character "Dom." In Fallout 4 (2015), Ford voices Piper Wright, a potential companion and the Editor-in-Chief of Diamond City's newspaper, Publick Occurrences.
Personal Life
Ford was born in Huntington Beach, California. She married actor Brandon Routh in 2007. Their first child, a son, was born in 2012. The maternal side of her family is of Hispanic heritage with roots in the state of New Mexico that predate its admission to the Union. Her stepbrother is screenwriter Roberto Orci.
Gallery