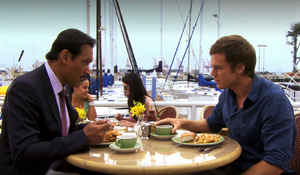 Cojimar Cafe is a location in Season Three of the Showtime series DEXTER.
It's a patio cafe set near the boat docks in Miami.
Summary
Dexter Morgan suspects that on the same night he and Miguel Prado killed Billy Fleeter, Miguel later secretly killed Ellen Wolf. Because Dexter had told Miguel that a good place to hide a body is in an open grave, he searches West-Gate Cemetery. His suspicions are confirmed when he discovers Ellen's body in a grave beneath several inches of dirt.
Determined to confront Miguel, Dexter takes him up on his offer to have lunch together. He informs Miguel that he knows he killed Ellen against his wishes. However, Miguel insists that it's just a minor difference of opinion between friends. When Dexter rules out any more independent projects, Miguel makes it clear that he plans to continue killing whomever he chooses. He believes he is untouchable, so Dexter is determined to show Miguel that he's not. Dexter returns to the cemetery and uncovers Ellen's body, which leads to a police investigation into her murder.
Related Pages
Gallery