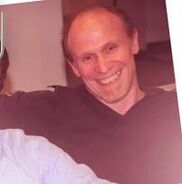 Carlos Delioni is a character in Dexter Interactive Investigation as one of the New York Serial Killer's victims.
Description
Carlos is a man aged 52 with a bright smile and balding head. He wears a red long-sleeved shirt, presumably with blue jeans. Since his occupation is that of a security guard, he most likely wears black pants and a white button-up shirt for on-duty attire.
General Notes
This is information taken from the file available for viewing during the game:
Victim
CARLOS DELIONI
Age: 52
Marital Status: Divorced
Profession: Security guard at the Empire State Building.
Last seen alive: At a bar in Manhattan leaving with a known prostitute.

Plot
Community content is available under
CC-BY-SA
unless otherwise noted.