Candice DeSalee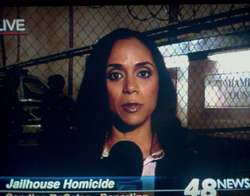 Character Profile
Portrayed By
Roxanne Beckford
Season(s)
Season One
First Appearance
Crocodile
Last Appearance
Seeing Red
Appears in
Two Episodes
Character
Full Name
Candice DeSalee
Status
Alive
Characteristics
Age
Late 30s
Gender
Female
Eyes
Brown
Hair
Brown
Personal Status
Immediate Relatives
Unknown
Professional Status
Profession
News Reporter
Candice DeSalee is a character in Season One of the Showtime series DEXTER.
She is a reporter for 48News.
Summary
Dexter Morgan is at Rita Bennett's house and the subject of her avoidance of sex comes up. He reassures her and says they should wait until it's right for both of them. She expresses her relief, saying that she can't believe she found the "one good, truly decent man left on the planet."
While Rita is hugging him, Dexter notices a news report about a jailhouse homicide on the television. He grabs the remote, turns up the sound, and listens to the reporter.
DeSalee: "...was found dead in a basement hallway of the Miami Metro Jail. Norberto Cervantes was a known associate of reputed drug lord Carlos Guerrero. Speculation is that another inmate is responsible for the mayhem here tonight."
On a TV in the homicide department, the detectives watch Maria LaGuerta give an interview to reporters. DeSalee is heard, although only the back of her head is shown.
LaGuerta: "The Ice Truck Killer Case has been reopened officially. We have new forensic evidence that shows that the DNA from the blood in the Marina View Hotel matches the DNA from his victims."
DeSalee: "What about Neil Perry? Isn't he supposed to be the Ice Truck Killer?"
LaGuerta: "All those questions should be directed to Captain Matthews. He's been personally handling the Perry case."
The reporters shout out more questions as LaGuerta enters the police station. Matthews is irate.
Trivia
Related Pages
Gallery
Community content is available under
CC-BY-SA
unless otherwise noted.