Cal Rooney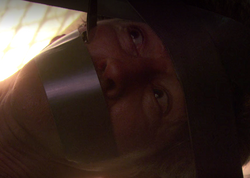 Character Profile
Portrayed By
Joel Weiss
Season(s)
Season Three
First Appearance
Our Father
Last Appearance
Our Father
Appears in
One Episode
Character
Full Name
Cal Rooney
Status
Deceased
Manner of Death
Killed by Dexter Morgan with a cleaver
Characteristics
Age
50s (at death)
Gender
Male
Eyes
Brown
Hair
Gray
Personal Status
Marital Status
Single
Immediate Relatives
Unknown
Professional Status
Profession
Carnival worker
Killer Profile
"No Known Moniker"
Inactive
Number of Victims
2
Modus Operandi
Tools/Weapons
Unknown
Killing Method
He ran the booth that guessed peoples' weight. Under that pretense to see if he's right, he looks up their addresses to rob them. One died of a heart attack as a result of his break-in and he killed another on a different break-in.
Method of Disposal
None
Cause
Unknown
Cal Rooney is a character in Season Three of Showtime's series DEXTER.
He was a carnival worker and murderer who appears briefly in flashbacks.
Summary
Dexter Morgan recounts in an ambiguous way what he did over the summer to his dentist. He says that he went to a carnival (flashback of the carnival) and won a prize (flashback to Dexter injecting Rooney with M99, and collecting a blood slide). The dentist hopes that Dexter stayed away from the sweet stuff. Dexter admits that he sometimes indulges (flashback to Dexter killing Rooney with a cleaver). Dexter states that he met new people (flashback to Dexter adding a trophy to his new blood slide box). When the dentist asks Dexter if he still has his boat, Dexter answers, "You bet. It's the only place I can let everything go" (referring to where he dumps his victims).
Additional Info
Cal's blood slide is the fifth one in his second blood slide box. Apparently, Dexter killed at least four people since the end of Season Two.
Related Pages
Gallery
Community content is available under
CC-BY-SA
unless otherwise noted.