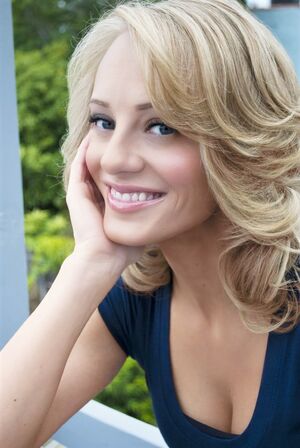 Brooklynne James (born 29 January 1981) is an American actress and stunt performer.
In 2010, she played Barrel Girl Victim #11 in Showtime's series DEXTER.
Appearances
Career
Film
Her film credits include roles in The Gambler (2014, uncredited); Celebrity Sex Tape (2012); Barely Legal (2011 Video); The Hangover (2009, uncredited); and The House Bunny (2008, uncredited).
Television
Her TV credits include appearances on Roadies (uncredited); True Detective (uncredited); Murder in the First; Southland; How I Met Your Mother (uncredited); Suburgatory; CSI: NY; Perfect Couples; The Cape; Criminal Minds; Weeds (uncredited); Desperate Housewives (uncredited); Monk; Two and a Half Men; The Riches; CSI: Miami; Without a Trace; Entourage (uncredited); and CSI: Crime Scene Investigation.
Theatre
She has starred in Don't Hang Up; Chasing A Legend; Jewel Box; The Death Threat; Barflies; and Pot Aux Lait [1]
Personal Life
Brooklynne was born in Los Angeles, California, as Jana Lynne Ramsey. After graduating high school, she moved to Belgium where she studied theater at the Universite Libre de Bruxelles. After earning her degree, Brooklynne moved back to Los Angeles to pursue acting. She has an older sister. [2]
Trivia
She speaks fluent French.
References