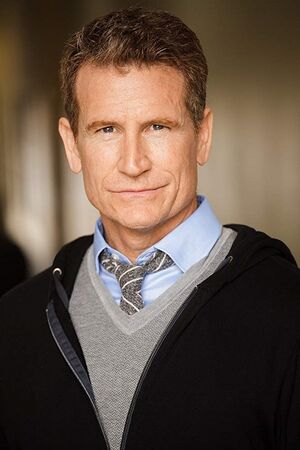 Britt George (born 17 October 1971) is an American actor, producer, director, and writer.
In 2013, he played Beaten Man in Showtime's series DEXTER.
Appearances
Career
Film
His film credits include roles in Alien Convergence (2017 Video); Boonville Redemption (2016); Heels (2016); Sunny in the Dark (2015); Welcome to Inspiration (2015); Sharp (2013); Cathedral Canyon (2013); RockBarnes: The Emperor in You (2013); From the Shadows (2009); Faith Happens (2006); Backlash (2006); The Eliminator (2004); Quigley (2003); Bending All the Rules (2002); The Code Conspiracy (2002); Deadly Species (2002 Video); Los Bravos (2001 Video); and Extreme Force (2001).
TV Movies
His TV movies include Elvis Lives! (2016); Supernatural (2005); and For Love or Country: The Arturo Sandoval Story (2000).
Shorts
His shorts include Vagabond (2018); When the Waters Rise (2010); Cowboys and Indians (2007); and Save Me (2006).
Television
His TV credits include appearances on Tropical Cop Tales; A Girl Named Jo; Too Close to Home; My Haunted House; Cryptid: The Swamp Beast; True Blood; Burning Hollywood; Las Vegas (uncredited); Boston Legal (uncredited); Guilty or Innocent?; Mind of Mencia; Passions; My Crazy Life; Dragnet; Noah Knows Best; The Mystery Files of Shelby Woo; and Florida Lady.
Personal Life
Britt was born in Orlando, Florida.
Community content is available under
CC-BY-SA
unless otherwise noted.