Bob Hicks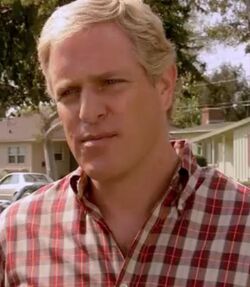 Character Profile
Portrayed By
Scott Atkinson
Season(s)
Season One
First Appearance
Born Free
Last Appearance
Born Free
Appears in
One Episode
Character
Full Name
Bob Hicks
Status
Alive
Characteristics
Gender
Male
Eyes
Green
Hair
Blonde
Personal Status
Marital Status
Single
Professional Status
Profession
NA sponsor
""Bob, you seem like a nice man,
but this isn't your goddamn business" - Rita, to Bob"
Bob Hicks is a character in the Showtime series DEXTER. He was Paul Bennett's Narcotics Anonymous sponsor after Paul was released from prison.
Summary
Dexter Morgan had knocked Paul over the head with a frying pan, taken him to a motel room, where he injected him with heroin. When Paul was arrested for using heroin, Bob initially thought that he had screwed up. But when Paul proclaimed his innocence, Bob looked into Paul's allegations that Dexter had set him up, and soon believed him.
Trying to help Paul, Bob went to Rita's house in order to convince her that Paul was telling the truth. He explained that Paul had a skull fracture on his prison X-rays, but he didn't have one on the hospital X-rays that were previously taken after Rita had hit him with a baseball bat. However, Rita didn't take Bob seriously. She told him that Paul might have smashed his own head against a wall. She then told Bob that it was none of his business, turned her back on him, and walked away.
Community content is available under
CC-BY-SA
unless otherwise noted.