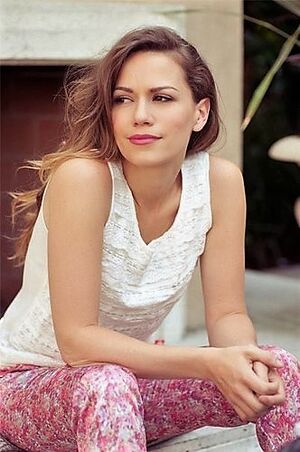 Bethany Joy Lenz (formerly Galeotti; born 2 April 1981) also credited as Joie Lenz, is an American actress, director, producer, and musician.
She played Cassie Jollenston, a neighbor of Dexter Morgan, on Showtime's DEXTER.
Appearances
Career
Films
Her film credits include roles in Poinsettias for Christmas (2018); Extortion (2017); End of August (2000); Thinner (1996); and I Love You, I Love You Not (1996, uncredited).
TV Movies
Her TV movie credits include roles in Royal Matchmaker (2018); Snowed-Inn Christmas (2017); Home (2016); The Christmas Secret (2014); The Legacy (2002); Mary and Rhoda (2000); 1973 (1998); and Psalty's Salvation Celebration (1992).
Shorts
Her shorts include Good Eggs (2018).
Television
Her TV credits include appearances on Pearson; Grey's Anatomy; Colony; American Gothic; Agents of S.H.I.E.L.D.; Songbyrd; Sock Monkee Therapy; CSI: Crime Scene Investigation; Men at Work; One Tree Hill; Life Unexpected; The Guardian; Maybe It's Me; Felicity; Charmed; Off Centre; and Guiding Light.
Music
She is recognized for her music as a solo artist and as a member of the band Everly.
Personal Life
She was born in Hollywood Florida, an only child. She has a step-sister named Candace and a half brother named Sam. Lenz married former Enation keyboardist, Michael Galeotti, in 2005. In 2011, she gave birth to a daughter. In 2012, Lenz announced that she would be divorcing her husband. She and her daughter reside in Los Angeles, California
Trivia
She goes by her middle name "Joy." She used to spell it "Joie" until she got tired of people mispronouncing it as "Joey".
Lenz is known for her habit keeping her hands on her hips all the time, even when walking, running, and sitting. She actually once refused to wear an outfit during a taping of One Tree Hill that would have made it impossible for her to have her hands on her hips. This trait was first noticed during her stint on Guiding Light.
Her hobbies are photography, painting, writing, horseback riding, knitting, and making stationery.
Gallery