Beth Dorsey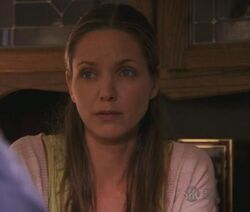 Beth Dorsey
is a character in
Showtime
's
DEXTER
.
She was a disciple of Travis Marshall, the Doomsday Killer.
Summary
She was married to Steve Dorsey who was a frequent poster on Professor Gellar's website, under the name Doomsday_Adam, although she wasn't as devoted to the website as her husband, even sometimes coming off as reluctant. She and her husband were accepted by Travis Marshall as his disciples, and they aided in the death of Holly Benson.
Later, at her house, she was questioned by Sergeant Angel Batista who was unaware of their status as Travis' disciples. He eventually figured this out by observing that they had all of Gellar's books. Batista was then knocked over the head by Travis with Beth watching. They took Batista's arrival as a sign that the police station was their target for Wormwood.
Beth arrived at the Police Station and found her way into Homicide. There, she waited for Debra Morgan to come back from a crime scene. When Debra arrived, she began to take Beth to an interrogation room. Before that, Beth clicked a button attached to her backpack that started to release the gas. Dexter saw this and pushed Beth into a room and held the door shut, saving himself, Debra, and the entire Miami Metro Police Force. Beth died due to the poisonous gas, while Dexter suffered some symptoms.
Attempted Victims
Related Pages
Community content is available under
CC-BY-SA
unless otherwise noted.